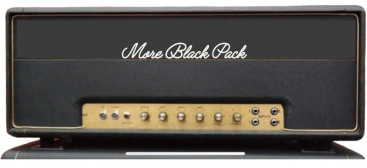 If you like Ritchie Blackmore's sounds from the era of Deep Purple Mark II and III and Rainbow, and you happen to have a Kemper Profiler and a Strat, check out these profiles! They were made from a very rare Marshall Major amp. This pack includes Version 1 & Version 2, released on the 5th anniversary date of Version 1, and is free for all who bought Version 1 already.

This pack contains over 200 profiles (!) that try to simulate Ritchie Blackmore's sounds during his years with Deep Purple (Mark II and III) and Rainbow. These are profiles of a very rare Marshall Major 200W Model 1967 amp from 1971-1972 in excellent condition. There were only 1200 copies made of this amp, and only a few are still in good condition, worldwide. The best is to play these rigs on a Strat, although many profiles also sound great on a Les Paul! This amp was also used by Mick Ronson, Stevie Ray Vaughan and John Frusciante. These profiles sound the best on a FR speaker because the H55 speaker is an integral part of the unique sound, and for some song profiles, IR's were created and converted into Kemper cabinets. You will not find this kind of profiles anywhere else because there are so little Majors left in good condition! I checked it out and couldn't find any, that's why I decided to profile it myself. Furthermore, it was not an easy task to get the right ingredients for Ritchie's sound... Every component in the sound chain had to be the right one. It took me years of experimenting with amps (Vox, Marshall Vintage Modern, and the Major), treble boosters and speakers to obtain this result.

The material that was used for making this pack, is the following:




These profiles were made with firmware 8.5.8. Your KPA must be using 8.5.8 or later to use these profiles.

Check out the sound samples below. Each sound is produced solely by the amp and the treble booster pedals in front of the amp (no plugins, no adjustments), I've only used some reverb and/or delay (courtesy of the Kemper Profiling Amp).




Ritchie Blackmore - More Black Pack (Marshall Major) for the Kemper Profiler (Rainbow, Deep Purple)





"Note: All product names and trademarks are the property of their respective owners, which are in no way associated or affiliated with Flying Snowman Productions. Product names are used solely for the purpose of identifying the specific products that were studied during Flying Snowman Production's sound profiling process. Use of these names does not imply any co-operation or endorsement. You are purchasing a license to use these profiles for your own personal and/or professional use but profiles are not for resale or for any other unlicensed distribution, free or compensated. The Flying Snowman Production profiles simply seek to re-create the sound of the stomp boxes and amplifiers listed and any use of brand names is strictly for comparison purposes."