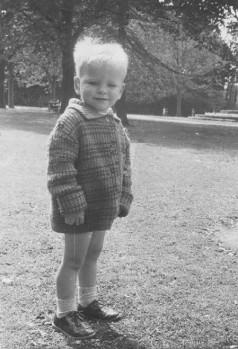 I guess it all started when I first heard The Beatles, at the age of 5. I was a big fan of them. I remember having received a tape recorder from my dad a few years later. I listened to the radio all the time and recorded a lot of songs from the hit parade. I played trumpet in a local brass band for a few years and studied 2 or 3 years of music theory. Listening so much to the radio, it was obvious that I would soon drop this instrument. I became a big fan of seventies pop like The Sweet. But it was only after hearing Deep Purple, first with "Smoke on the Water" and later with "Mistreated", that I really became passionate with guitar. I started improvising solo's like Ritchie Blackmore in my heard. So I started learning classical guitar, at the age of 15, as that was the only option available back in those days. There was no internet, no learning apps or CD-Roms like today. I soon traded it for an electric guitar, and starting playing on it all day. It sounded like crap the first 6 months. I had to learn everything by myself. I just had a friend who showed me a few chords and solo schemes, and that was it.
| | | |
| --- | --- | --- |
| | | |
| | | |
| --- | --- | --- |
| | | My first gig was way too soon, in 1976. I played only for 6 months, I composed about 10 songs which were strongly inspired by Ritchie Blackmore's Rainbow first album, but of course sounded like crap due to lack of songwriting and guitar skills and experience. I asked a friend drummer and a friend bass player to join me on stage, and called the band "Bloody Crime". It was on a free podium and I was boo-ooed back home. After that, the two bandmates were angry at me for a long, long time! |
So I figured out I had to try a little bit harder, and I started taking it more seriously. The same friend that learned me my first guitar chords took me to the music store in Brussels in 1978 and told me I had to buy a second hand Fender Telecaster from 1967. I bought it with my own earned money with a student job. I'm so glad I did. I still have that guitar and it's probably the best I own. I remember playing on a small Fender Champ back then, and using two pedals: a Colortone wah and a Colortone distortion. I put up my second band, two years later (and after a lot of practicing), called "The Mirrors". We were a band of friends and played songs I mostly composed, and some by the other guitar player/singer. Basically, we played rock and blues songs. We stayed together for approximately two years, did a few gigs and we became a little bit known in our town.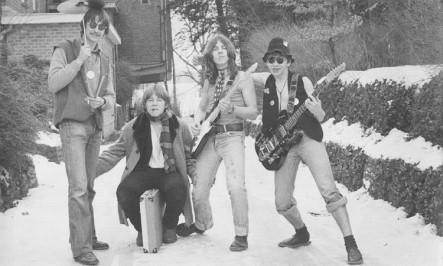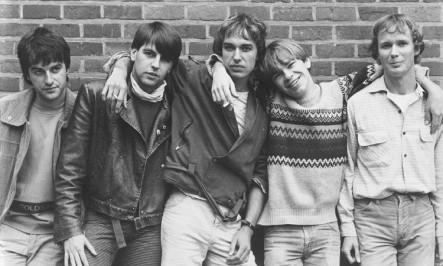 I changed friends and joined another band, called "The Seconds" in 1981. I only sang backing vocals this time, which seemed like a better idea. The other guy who played guitar, was a big Stones fan. He sang and composed most of the up-tempo pop/rock songs, and I liked to color them with backing vocals, chorused guitar chords and melodic solo's. I wrote a few songs too in a later stage. We won most of the contests in those days, and got released twice on a compilation LP (remember: long-play?) of LOF.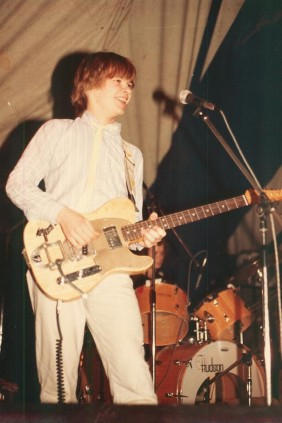 But everything comes to an end (blame it on a woman again). I joined "Boots", in 1985, a pop-funky band with close-harmony vocals for which I wrote most of the songs. Had a portastudio (155 from Teac), a small 4-track tape recorder. I did the drum parts with a Boss Dr. Rhythm, played the bass with a fretless bass guitar from a friend, and did the singing, guitars and synthesizers. After that, I gave the demo's to the guys and we rehearsed to play them in a better way. We did some gigs and it was OK.
I had bought a lot of synthesizers over the years, and wanted to make more instrumental music. I loved acts like Japan and Brian Eno, and started making music (in 1986) with ethnic influences, a mechanical sound and a lot of programmed drums and bass. Sometimes also with fretless bass, and of course, guitar. Remember the TR-707? And the Korg Poly 800? When I had enough songs, I called a friend who makes moviesets, and I asked him what I could do with this kind of music. I wanted to do something visual with it. So he came up with the idea of putting up a puppet theatre. I called it "Visions of Foreign Countries". The idea was to record most instrument parts on the 4-track recorder, playing one instrument live at the time (varying from vocals, guitar, to synthesizer). I asked a few friends to help us with the puppets show: Jamme (who also came up with a lot of ideas and designed together with Stef most of the poppets and sets), Mark, Christine, Alain, Philippe, Trikke. Every song handled another theme: "Holidays in Beyrouth" about the war in Libanon, "Das haben Wir nicht gewollt" and "Arbeit macht frei" about WW II, "Visite de Tarzan à Hollywood" about racism, "Om Mani Padme Hum" about religion, "7 Up" about Space, "The smell of sensation" about the US, "The Color Red" about Communist China, "occoroM" about the Sahara, "J.C. 33 A.D." and "Delirium Tremens" about the Roman Empire. The "encore" was a love conversation between two geraniums. We could not leave out the humourous aspects! We did the show only once, on 16th of May, 1987 in Jeugdhuis De Schakel near Brussels, and we had a lot of good reactions on the show.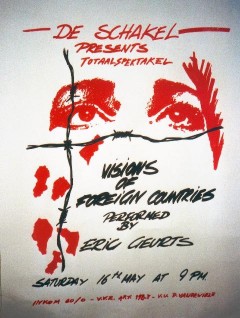 And again, my friend the moviesetmaker and myself, we wanted to do a show, called "We're All Televisions". We wanted to get into the houses of the family Jones, and get their living room, their television set, and their lives on stage! We wanted a strong interaction between what you see on TV, and what you are living in your other ("real") life... Finally, we never did it, because it would have been too expensive. But we did make the music. That was 1987. I remember we locked ourselves up in a rented house somewhere in the Ardennes. Every day, it became later and later as we worked around the clock. It was only after we returned home, that we realised we had skipped a day. It was a Sunday, all the stores were closed. We were convinced it was a Saturday.
I had just bought the Ensoniq Mirage sampler, and loved to sample ethnic drums and loops, and mix that with guitar solo's, together with jazz and rock influences. It was instrumental and repetitive, quite experimental music. The first song "Answering Machine" even got used as a jingle on a radio station. I called this project "Umgawa!", thanks to a friend's suggestion. He (Alain Marchal) contributed to the project, and we did a live show. He had a plastic toy guitar, from which he had taken the 5V power and sent it to his Serge modular synthesizer. We made the Serge trigger the TR-707, which converted this signal to a midi signal, and then it was a piece of cake to send it to the Mirage's sequencer, triggering its sampled sounds! Result: he played this toy guitar, and triggered big sound effects, while I played rock 'n' roll riffs on my black Kramer guitar... We did a show in Jeughuis De Schakel near Brussels and had great fun!
My friend the moviesetmaker and myself, we had an idea of doing another show, called "Stories from the Blue Moon". It was the story about Max, an astronaut who was lost in space. I wrote the (instrumental) songs, using the Roland R-8 drum machine, two Yamaha TX-81Z FM synthesizers, a Roland Super JX-10, an Oberheim Matrix-1000, the Ensoniq Mirage and probably a few others I can't remember. We didn't have the same idea about the musical direction so we never finalized the probject.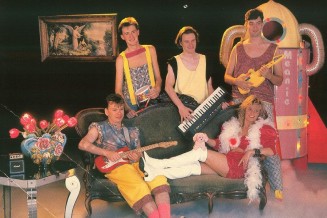 Then one day I woke up, in 1990, and I had a song in my head, which needed to be performed by a female singer. I found "Meanie", she came to sing, we got along quite well, and decided to work together. I had an 8 track recorder by now, on Otari, and I put a sync track on there to trigger a midi clock that drove a Roland MC-500 MK II sequencer and all of my synthesizers at the same time as playing back the other tracks. We worked together for quite some years. I wrote a lot of songs in those days, and we did some shows and had quite some fun. Eventually we got strong interests from a record company. We named our band Meanie's Boiling Boys. We made the Meanie Rocket, and took it with us on stage... The idea behind the show was that Meanie (being a sexy girl from another planet, that was only populated by women) had stolen mum's Meanie Rocket spaceship to visit planet earth and to find out what boys really looked like... We had a hell of a good time, until we were signed by a small record company, and everything started getting serious...

We changed our name into "Kiss The Bride", and released two singles: "When The Love Is Gone" and "Sometimes It Just Ain't Enough", recorded in Studio Impulse and produced by Paul De Spiegelaere and Kid Coco. "When the Love is gone" had some airplay, but not enough success to keep he band alive, and to keep the record company interested. So that came to an end too. And I lost Meanie... She was being offered a contract as a solo artist for a techno project with another record company.
I had just moved and built a studio in my new house, in 1998, when I got contacted by the manager of two young, nice girls called "Indiana". We started recording two songs I had written in the late days of Kiss The Bride. We recorded drums, piano and bass at Groove Studio with Peter Bulkens, the guitars and vocals in my home studio, and then back to the Groove Studio for the mixing. "Not Afraid Of The Dark" got released and became a radio hit, so we recorded 4 more songs I had written, this time in the ICP studios and again in my home studio. Unfortunately, these never got released.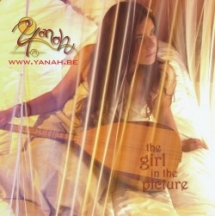 Then, in 2003, I met a girl who played a bit of guitar, flute and piano, and had a wonderful voice. She also wrote songs. We started working together, I became her manager and producer. I rewrote her songs and lyrics, added a few of my own, and then arranged and recorded (almost) everything in my new studio, this time on a Mac with Logic. I worked together with the best Belgian studio musicians to record this CD, and my friend Bert as the sound engineer and piano player. Yanah was signed on my Flying Snowman Records label. I worked together with photographers, graphists, web designers, promoters (for radio), and co-publishing companies, and the cd's got distributed in Belgium (by Reli Records) and also in the Netherlands (by Heartselling).

One song that I wrote for "Yanah", "The Girl In The Picture", was dedicated to Kim Phuc, the little girl (in the black and white picture) that was severly burnt in 1972 during a napalm attack on Vietnam. I had read about Kim's story in the newspaper, and I was amazed at how this woman turned her life into something so strong and positive after having been a victim of war. I read her autobiography "The girl in the picture", written by Denise Chong. I was just in the middle of composing a new song on my Kawai acoustic piano. It proved to be the most difficult lyric that I had ever written, because the theme was quite political and everybody knew the story. I tried to capture the painful events of Kim's past with her remarkable strength emerging out of a desire to heal and forgive. Forty children aged 6 to 14 belonging to the Mozaiek choir participated in the recording of "The girl in the picture". A string quartet arrangement was added as the final touch to the song. I sent the song to Kim, as a dedication to her. She really loved it, so I invited her to come to Belgium. I organised a press conference where Yanah handed over the very first copy of the single CD "the girl in the picture" to Kim, and where we played the song live with the band. Kim was deeply touched and it made us all shed a tear. The press-conference was broadcasted on all Belgian tv news stations and was in all the newspapers. The benefits of the sales of that song went to her peace foundation, The Kim Foundation, that supports children that are victimized by war. Kim and Eric became real good friends and have met numerous times since the event.

The next song that got released beginning of 2004 as a single-cd, was "All she's saying", I song I had composed earlier. It got a lot of airplay on VT4 Radio. After that, "Back against the wall" was released, and was on the playlist of Radio 2.

Next time I got Yanah in the bigger spotlights, was when she opened for the Belgian Eurosong preselections in 2004 with the song "Yes Or No", which we co-wrote with three Holland songwriters. Again, a lot of good comments and publicity on tv, radio and written press.

The third and last time I got her in the spotlights, was when the full CD got released. It had real good reviews on Yahoo and CD Baby, and in national newspapers (Het Nieuwsblad, La Dernière Heure, Het Belang van Limburg) and magazines (Flair, Story, Joepie, Dag Allemaal, Menzo, TV-Familie, TV Gids, TV Familie, Stage, Uitkomst). In iTunes, our cover of Don Henley's "Boys of Summer" continues to be downloaded even today. We did a lot of gigs almost 2 years in the BE/NL area including UNESCO in France, many cultural centers, some of the most prestigious festivals in BE, TV of course and radio.

It soon was clear that Yanah's ambitions were not the same as mine, so she terminated the contract. During this time, in 2008, I produced and mixed "Sandbox Society"'s EP. Drums and bass were recorded at Jet Studio in Brussels, vocals and guitars in the Flying Snowman Studio.
| | |
| --- | --- |
| | |

After having written over 500 songs (and really hating the music business by now), I decided in 2011 to concentrate more on my guitar playing than on songwriting and producing. I started a cover band called "NeverB4" with my best friend Mark, who previously played drums in The Seconds a long time ago. Jo Wolfs joined us on bass, and then we found Philip Van Cauwenbergh as the lead vocalist. Finally, Mark Neefs completed the band as the keyboard player. We brought Classic Rock covers (mostly seventies stuff) of Deep Purple and Led Zeppelin, but also many other artists like Black Sabbath, Bad Company, The Who, Van Halen, and even some more commercial covers. To all good things come end. We split up in 2019 because of musical disagreements.