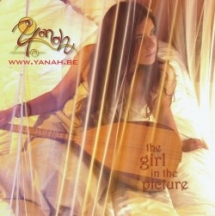 Then, in 2003, I met a girl who played a bit of guitar, flute and piano, and had a wonderful voice. She also wrote songs. We started working together, I became her manager and producer. I rewrote her songs and lyrics, added a few of my own, and then arranged and recorded (almost) everything in my new studio, this time on a Mac with Logic. I worked together with the best Belgian studio musicians to record this CD, and my friend Bert as the sound engineer and piano player. Yanah was signed on my Flying Snowman Records label. I worked together with photographers, graphists, web designers, promoters (for radio), and co-publishing companies, and the cd's got distributed in Belgium (by Reli Records) and also in the Netherlands (by Heartselling).

One song that I wrote for "Yanah", "The Girl In The Picture", was dedicated to Kim Phuc, the little girl (in the black and white picture) that was severly burnt in 1972 during a napalm attack on Vietnam. I had read about Kim's story in the newspaper, and I was amazed at how this woman turned her life into something so strong and positive after having been a victim of war. I read her autobiography "The girl in the picture", written by Denise Chong. I was just in the middle of composing a new song on my Kawai acoustic piano. It proved to be the most difficult lyric that I had ever written, because the theme was quite political and everybody knew the story. I tried to capture the painful events of Kim's past with her remarkable strength emerging out of a desire to heal and forgive. Forty children aged 6 to 14 belonging to the Mozaiek choir participated in the recording of "The girl in the picture". A string quartet arrangement was added as the final touch to the song. I sent the song to Kim, as a dedication to her. She really loved it, so I invited her to come to Belgium. I organised a press conference where Yanah handed over the very first copy of the single CD "the girl in the picture" to Kim, and where we played the song live with the band. Kim was deeply touched and it made us all shed a tear. The press-conference was broadcasted on all Belgian tv news stations and was in all the newspapers. The benefits of the sales of that song went to her peace foundation, The Kim Foundation, that supports children that are victimized by war. Kim and Eric became real good friends and have met numerous times since the event.

The next song that got released beginning of 2004 as a single-cd, was "All she's saying", I song I had composed earlier. It got a lot of airplay on VT4 Radio. After that, "Back against the wall" was released, and was on the playlist of Radio 2.

Next time I got Yanah in the bigger spotlights, was when she opened for the Belgian Eurosong preselections in 2004 with the song "Yes Or No", which we co-wrote with three Holland songwriters. Again, a lot of good comments and publicity on tv, radio and written press.

The third and last time I got her in the spotlights, was when the full CD got released. It had real good reviews on Yahoo and CD Baby, and in national newspapers (Het Nieuwsblad, La Dernière Heure, Het Belang van Limburg) and magazines (Flair, Story, Joepie, Dag Allemaal, Menzo, TV-Familie, TV Gids, TV Familie, Stage, Uitkomst). In iTunes, our cover of Don Henley's "Boys of Summer" continues to be downloaded even today. We did a lot of gigs almost 2 years in the BE/NL area including UNESCO in France, many cultural centers, some of the most prestigious festivals in BE, TV of course and radio.